The controlled use of fire is an invention that dates back to the early stone age, some estimates have it at about 400,000 years ago. While civilization and technology has progressed significantly since then, fire is still used by humans to cook food, heat our homes and outdoor areas, and provide light.
If you would like to add fire to your home or outdoor space, the first thing you must consider is whether you are looking for a fireplace, fire pit or fire feature. These features come in many shapes and sizes and can have 3 main fuel types. Wood, Liquified Petroleum (LP Gas) or Natural Gas.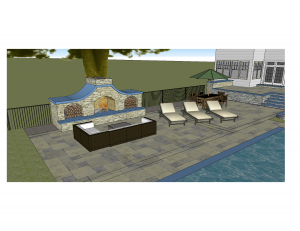 Choosing the right configuration depends on a few things like your fuel availability, climate, your heating needs and the overall look and functionality of the design. As mentioned in previous articles, a 3-D design is best, but if your contractor or architect does not have that capability, a 2-D design will suffice.
Fire Places
Whether you enjoy the ambiance of yellow flames dancing around and creating a serenely lit outdoor eating area or curling up on an outdoor sofa next to a fire after dinner on a cool fall evening, the fireplace is the most dynamic option for your outdoor living space. Fireplaces can be installed indoors or outdoors, they can burn wood, natural and LP gas. Some of the customizations include, size, decorative shrouds, thermostats and fans, and remote lighting.
Fireplaces are typically built out of masonry, but can be built with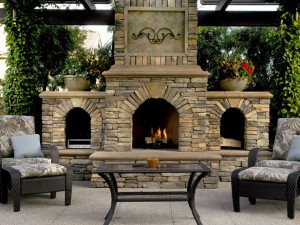 other materials. The designer should check local fire codes before starting the design. With fireplaces indoors or near a house, you will need a chimney to vent the exhaust. Adding hearths, mantels, pizza ovens and wood boxes are some of the options that should be considered in the design phase. If you are heating with natural gas or LP you have the option to add a remote control for easy lighting.
Fuel options should be carefully considered. While the crackling of a real wood fireplace is best for ambiance, many folks do not like the smoke that is generated by wood. The smoke can make your hair and cloths smell, as well as bring a tear to your eye when the wind shifts. If you are sensitive to this then using the clean burning natural gas or LP fuel should be considered.
Fire Pits
The fire pit has been used since the beginning and was as central to the village as our kitchens are in our own homes. Our ancestors used fire pits to prepare and cook meals, they were central to celebrations and ceremonies, our ancestors history and culture were passed on through stories and songs around fire pits. Fire pits keep us warm and the circular nature is welcoming and gives us the feeling of togetherness.
The fire pit is typically a much simpler design than the fireplace.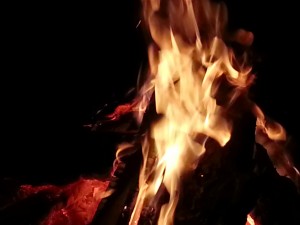 Natural stone is very often used and can be built in a circle of almost any size. Typically the questions you should consider are, How many people will I typically entertain around my fire pit? What size fires do I want to make? Do I want a wood burning fire pit or do I want clean burning gas? Do I want to cook on my fire or just roast marshmallows?
If you can figure out the answers to these questions, the fireplace design will proceed very quickly. One note with the design: Lately the hardscape manufacturers have been selling fire pit kits. They are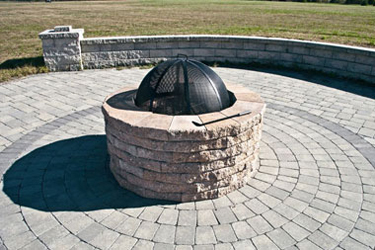 in all the magazines and have become very popular. The kits include a number of decorative retaining wall blocks that when put together are circular and stand Wholesale NFL Jerseys about 24″ high and about 30″ wide. Very often these kits will match other wall materials that are already part of the design. While esthetically these kits look nice, they do not heat well. Fire pits heat best when the fire is low to the ground, when you are sitting around a fire pit at ground level your whole body is warm. Sitting around a fire pit that is a couple feet in the air only warms your head and shoulders. If warmth is important to you, consider a ground level fire pit.
Fire Features
In recent years the fire feature has become a popular choice for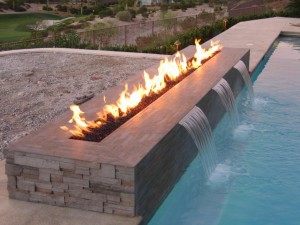 homeowners and outdoor dining spaces at restaurants. The fire features can vary widely in shape and size and are typically very artistic in nature. Natural gas and LP are used for the fire features and typically ambiance is the main function while heating is secondary if considered at all.
So the days of the small circular firepit in the back yard are over. The options for fire in your back yard are only limited by your imagination and your budget. If you are interested in discussing an upcoming fireplace project, be sure to go to my website at www.peakec.com to check out our projects and to set up an appointment. Thanks for reading, and feel free to comment!