I want my pavers to look like new! Do you love your brick paver patio/walkway? Has it lost some of its color lately? Is there mold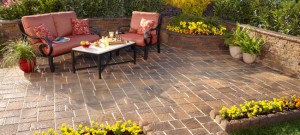 build up? Have the joints failed? Is it uneven or holding water? Are there weeds growing in the joints?If you answered yes to any of these questions, you are probably in need of some patio or walkway maintenance.
One of the best parts about brick paving stones is that they are practically indestructible. If the base of your patio or walkway has failed and is uneven, the paving stones can be picked up and relaid. The ancient Romans knew this and built roads through out there empire with cobble stones using very similar installation techniques. Some of these cobble stone roads are still in existence today, although many are covered with asphalt now.
So what can be done to help make your brick pavers look like new? Below is a list of maintenance issues and solutions for your brick pavers.
Problem: My pavers are uneven!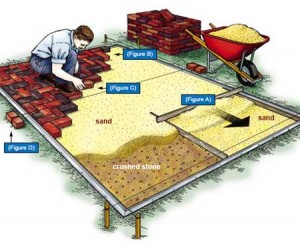 Cause: The base was not properly compacted during installation, or more likely, the drainage around the patio is bad.
Solution: Pull up pavers, confirm the crushed stone footing depth is adequate (4-6″ depending on soil types), adjust footing as needed and compact with a vibratory plate tamper (these can be rented at your local equipment rental shop). Take care of any water or drainage issues around the patio. Re-level setting bed and re-install pavers. This is the most difficult of all maintenance, I would advise the help of a landscape architect if drainage problems are severe. For large hardscape you should consult a local hardscape contractor.
Problem: My pavers are dirty, moldy or faded.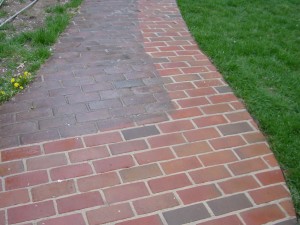 Cause: The pavers live outdoors, they fade from the sun, and get moldy and dirty.
Solution: Pavers should be cleaned and sealed every Two to Three years in order to protect the colors and prevent them from getting stained. Use a properly diluted acid based masonry detergent to clean your pavers. Once cleaned and dried, apply two coats of sealant to your pavers. Most retail locations will have a "Wet Look" sealer and a "Dry Look" sealer. My favorite is a "Matte Finish" because it does not look polished like the wet look sealer but does enhance the color on your paving stones.
Problem: The joints between my pavers have no joint material in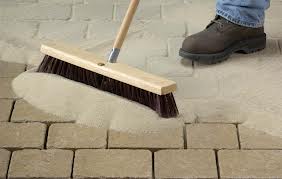 them or are growing weeds!
Cause: Older installation techniques required the use of concrete sand or stone dust in the joints. Over time the joint material settles, runs off or blows away.
Solution: Pressure wash the joints to remove any left over joint material, verify that the joint depth is at least 1″ deep. Be prepared to get dirty, cleaning the joints is a dirty job. Next, clean your pavers with an acid based masonry detergent. Once dried, sweep in Polymeric Joint Sand (Polymeric Joint sand is a material that is specifically formulated for brick paver joints. It contains polymers that essential glue the joint sand together while allowing it to be flexible during freeze thaw cycles.) Read manufacturers installation instructions for polymeric sand. This material is available any place brick pavers are sold.
Brick paver maintenance is an important component in maintaining the look and integrity of you hardscape surfaces. Most projects can be completed by a homeowner during the course of a weekend. The effort and the expense is minor but the result is a patio that looks practically brand new. Thanks for reading, good luck, and don't forget to check out my website at www.peakec.com